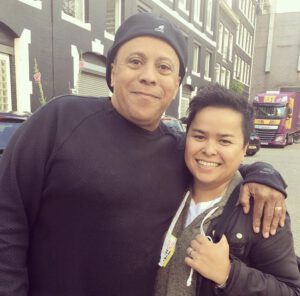 In episode 2 of the Musiqnote podcast I got to speak to Marc St. Louis who happens to be one of the best tour mangers in the business.
We discuss the important tasks of a tour manager, his experience on the road and the skills needed to make sure that the show goes on without any problems.
I met Marc for the first time at a Lenny Kravitz concert where he was the tour manager at the time. Marc has been married for a long time to my friend Patrice Rushen. Whenever Marc would have a show in Holland we would meet up and hang out if possible. The last time we did that was during the Brian Wilson tour. Unfortunately due to the pandemic it's been put on hold.
At a young age I wanted to be a tourmanger. The combination of traveling and music sounded quite amazing. Yet, where do you start if you want to become a tour manger. During the pandemic Marc took the time to inform me weekly about tour management. And yes it sounded like a lot of fun, but.........you need to be really focused and organized to make it all work. A lot of preparation, flexibility and improvisation is needed.
Listen and enjoy episode 2, where I'll be talking to Marc about all the pros and cons of being a tourmanager.
If you have any suggestions or remarks please leave them in the comment section below or contact us.
Thank you!