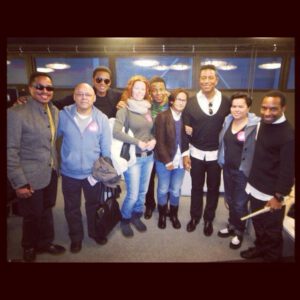 Years ago my big brother and bassplayer Melvin Lee Davis invited me and my family to a Chaka Khan performance. I remember going there and my dad who's a drummer, couldn't wait to meet the guy that was playing the drums. That guy was Chad Wright. They started talking and it was a start of a great friendship.
Whenever Chad would be in town he would reach out to us to come see him play. One day he contacted me and asked if we would like to see The Jacksons in concert. Are you kidding? Hell yeah! So we went to the venue and I still remember my mom being so nervous. My mom has been a fan ever since she was a kid and now she finally got to meet her idols in person. The reaction and experience was priceless. We're very thankful for the fact that Chad made this possible. It's a memory we will cherish forever.
Chad is an amazing drummer, you really have to check him out. We can't wait to see him on stage again very soon. Thank you again Chad! Keep playing the music!