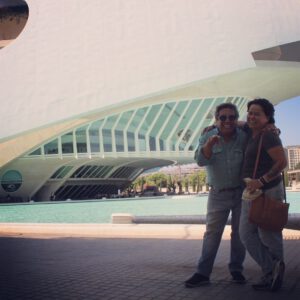 The first time I met Victor I immediately felt at ease. His smile and sense of humor are infectious. What I noticed was the interaction with his students. He made everyone feel comfortable and relaxed, no wonder they all talked highly about this guy.
Whenever I would visit Valencia he would always make time to hangout. We had some nice dinners and get togethers. I enjoy his company a lot cause his stories are fascinating.
Everytime he starts talking you just hear the love he has for music and teaching.
Teachers like Victor are rare and should be cherished for sure. Unfortunately he announced that he's retiring. I'm still shocked about that, cause it's a privilege to have someone as Victor as a teacher.
I'm one of the lucky few who learned a lot just by observing and listening to him. I even had the privilege to see him work in the studio and perform on stage. I can't wait to see and talk to him again in person.
Gracias Maestro for the stories and enjoy your retirement.