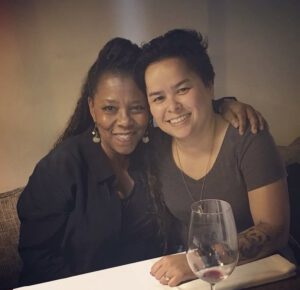 In the first Musiqnote episode I had a very nice conversation with the great Patrice Rushen.
We talk about the importance of music education, her experience in the music industry and the future of music.
I've known Patrice for a very long time. The first time I met her was at a Lee Ritenour concert. Bassist and good friend Melvin Lee Davis introduced me to her. This became the beginning of a special friendship.
Every year we meet up in the beautiful city of Valencia in Spain, the location where the Berklee College of Music campus is located. Patrice is the "Ambassador of Artistry in Education" at Berklee. Besides hanging out and eating great food, I also follow the classes she gives on campus. It's amazing how much knowledge she has when it comes to music. Students are eager to take her advice and they love listening to her stories. You can imagine their disappointment when class is over, cause there's so much to learn from her. This is one of the reasons that Patrice will be a reoccurring guest on the Musiqnote podcast.
I've had so many talks with her in the past and each one has always been inspiring and informative. Hopefully you'll experience a bit of the privilege I have when it comes to talking to an artist like Patrice.
Enjoy episode 1!
If you have any suggestions or remarks please leave them in the comment section below or contact us.
Thank you!